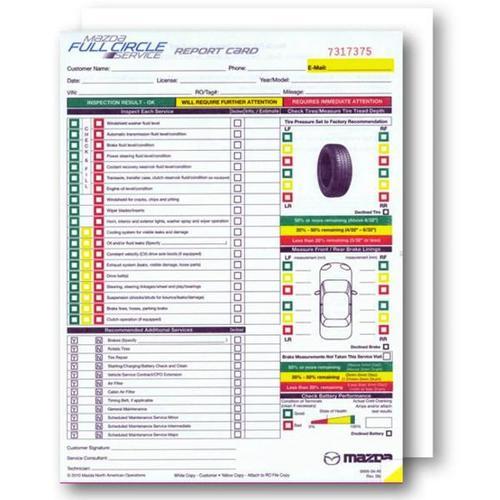 Mazda Multi-Point Safety Inspection Forms
Regular price $ 30.60 Sale
---
---
Automotive News had a feature article in the January 7, 2008 addition titled "Simple safety: Green, amber, red" "Color-coded inspection forms help dealerships build business".
The article made three strong statements:
Manufacturers are urging dealers to use color-coded inspection sheets.
GM's research shows that dealers using the forms boost their business an average of 15 percent.
Customers response to the forms has been positive.
Wouldn't you know we just happen to have some tremendous pricing on our Mazda Safety Inspection Reports!
Size: 8 1/2" x 11 3/4"
2 part, carbon-less, edge glued (white, canary)
Priced per 250 pack
*For use by authorized Mazda dealers only.