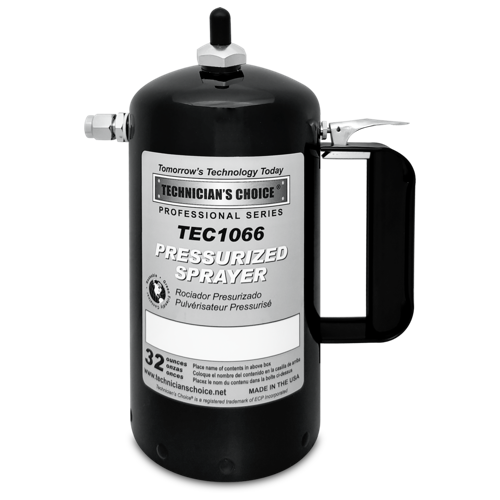 TEC 1066 Sure Shot
Regular price $ 79.11 Sale
---
---
Sure Shot is the leader in refillable, rechargeable, completely portable compressed air sprayers. Sure Shot is lightweight at 2lbs and is an inexpensive way to apply bulk chemicals like cleaners, de-greasers, penetrating oils, solvents, and lubricants. However, Sure Shot should not be used with water or water based materials and is not recommended for use with paint.
Unit comes with a multi purpose nozzle for versatility. The nozzle comes set for regular mist. Easily remove the #303 nozzle with needle nose Pliers to spray as a pin Stream.
Generous 32oz (1 Quart) liquid capacity works well with oil and solvent based materials.
Metal construction with corrosion resistant working parts. Exterior is powder coated in a black finish.
Uses readily available compressed air instead of flammable or dangerous propellants. Because it is reusable, there is no worry about disposing of empty cans.